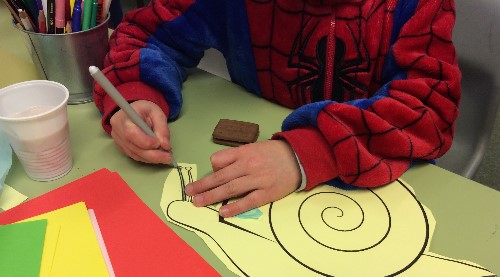 We made it! It is Half Term! What a fantastic and vibrant community WPA is and I thank my lucky stars every day that I am able to work here.
There has been a lot going on again this week with Year 1 visiting Newquay Zoo on a bitterly cold Tuesday (they loved it and were marvellous advocates for the school – thank you!); Year 5 enjoying an out of this world experience on Wednesday (reports are that it was 'mega' and 'amazing') and Years R, 1 and 2 coming BACK to school at 3.45pm on Wednesday to take part in our Bedtime Stories event. Hundreds of pupils came back in their very cosy pyjamas and their favourite teddy to listen to stories in the Hall and take part in other activities and had a wonderful time.
Mrs Lee Elkins Writes:
This week the Reception and Key Stage One children came back to school for a 'Bedtime Stories' party in their snuggly PJs and with their very cute teddy bears! The children gathered together in the hall to listen to Mrs Lee-Elkins read her favourite story, The Cat in the Hat. After, the children returned to their classrooms to listen to their teacher's favourite story books. The children then took part in exciting activities such as making witches potions and going on a character treasure hunt in the playground. They were also very excited to have a small milkshake and biscuit!
Thank you so much for your support with events such as these. Not only was it a great opportunity to celebrate the importance and enjoyment of reading but we also managed to raise over £150 which will go towards new books for the children. Many thanks and keep reading!
Thank you to all of you who have already signed up for slots for Parents Evenings; do log on to Arbor to book your slot if you have not already. If you cannot make either date, do please see your child's teacher to make an appointment on another day. Healthy Eating kicks off after Half Term – the School Council have written a letter which will be sent out just after Half Term – it asks please for pupils to bring in ONLY healthy snacks for break times. If it is a fruit or veg, then it is very welcome; if it is a crisps, cakes or chocolate then it is not! We look forward to your support with this moving forward. The School Council are very excited and are happy to advise if needed.
Parking: please use the drop off lane for dropping off only. Please park in a space if you want to get out of your car. I know that it is incredibly tight, and we very much appreciate your continued patience, but if we are able to keep that 'lane' moving then it would help ease some of the congestion. It would also be much appreciated if you could avoid double parking where possible.
Please see below for the (still extensive!) list of what is coming up in the next few weeks, and as ever, please do drop me a line or pop in and see me if there is anything that you want to discuss or celebrate. I hope that you all have a safe and restful Half Term. Thank you for all of your support; it is hugely appreciated.
Upcoming Events:
24/2/20: INSET DAY – SCHOOL CLOSED TO PUPILS
25/2/20: SHROVE TUESDAY: PANCAKE RACES. All pupils to bring in a pancake and a pancake pan for races and other pancake related fun. PS The race pancakes will NOT be eaten.
2&3&4/3/20: Invited pupils to the Wadebridge Festival of Music & Speech
2/3/20: Y2 Recycling Trip
2/3/20: Y4 Viking Day
4/3/20: Class and Team Photos
5/3/20: St Piran's Day – please dress in Black, Gold and White ????
6-11/3/20: Scholastic Book Fair (TBC) (linked to World Book Day which will be confirmed)
16&17/3/20: All Year Groups Parents Eves (booking open)
18-20/3/20: Y3 Residential to Delaware
21/3/20: Girl's Football Team to Keynsham for National Final